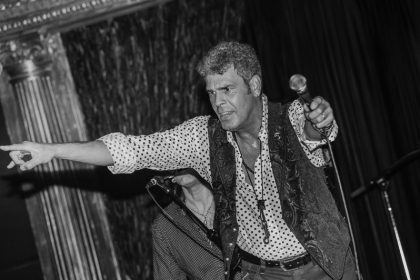 It's hard to believe that 2014 is halfway over. I'm still making mistakes in my checkbook. It's been an amazing ride so far and June in particular had some fantastic moments. I'd like to share some of them with all of you… It started out on June 1st with another sold out show in Phoenix AZ with Billy. It was toasty outside and the show rocked. I flew out early on the 2nd to meet up with Ringo and The All Starrs in Toronto. It was Great to see my dear friends and put the band together once again. I spent four days there and then flew back across the country to Las Vegas for another sold out show with Billy. Got home on the 8th, had one day off and then had a rehearsal on the 10th for my gig on June 13th (Yea… it was Friday The 13th) at The Cutting Room NYC. It was pouring outside that night and the room was PACKED. The band this time featured: Steve Conte on Guitar & Vocals, Johnny Gale on Guitar & Vocals, Zev Katz on Bass & Spiritual Guidance, my longtime friend Jon Cobert on Keys and Shawn Pelton, bringing the magic on Drums.
Here's a copy of the set list:
June 13th, The Cutting Room:
Tell Me
Loraine
Sticky Situation
Don't Bring Me Down
Got To Get You Into My Life
Hush
Get Together
Wild Weekend
Can't Get Next To You
Money, Money, Money
Spanish Castle Magic
Glad
Can't Find My Way Home
Why Do You Dance
Turn Me Loose
Help From My Friends
So, now it's June 18th and I get to sit in with Ringo and The Lads at the Beacon. What a Joy! I played percussion on "Oye Como Va" and then sang backgrounds on "With A Little Help From My Friends."  Lots of people asked, who was the woman who I shared the microphone with. It was none other than Judy Collins.
What a Thrill…
Three days later we were back at Madison Square Garden for another killer show with Billy. Finally, on June 26th, Billy played at one of the last great baseball parks in America, Fenway Park in Boston. You could feel the history on that field. Truly like no other park still standing. We were joined by Zac Brown on "You May Be Right."
To say the least, I have been truly blessed and this past month has been UNBELIEVABLE. Check out the photos and I think you'll get a feel for just how much I LOVE what I do.
Peace & Gratitude Always…MR
June 2014